Shlomit Sofia Tipping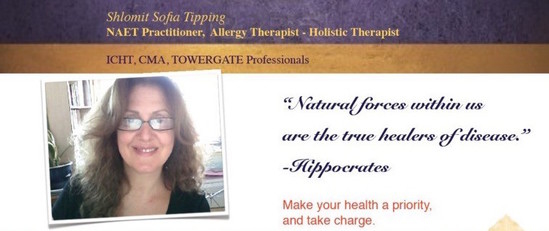 I have been a complimentary therapist since 1985, in my home town in Greece. I have moved in uk and since 2000 I have been practicing in central and north west parts of London in several clinics and in private.
I love what I do and I think there is not greater payback than seeing the people I have treated relieved from what ever causing them to feel unwell.
NAET-Nambudripad's Allergy Elimination Technique 2007 to date
Successfully used the NAET treatments to help clients of all ages from infant to elderly, to overcome allergies and related health issues.
Worked with numerous private clients and have cleared them from common allergens including: egg, milk, yeast, gluten, sugar, wheat, pollens, pet hair, and the associated symptoms.

Treated clients with health conditions such as children with Autism, ADHD, hay fever, digestive problems, skin conditions including eczema, frequent ear infections, mood swings, heart palpitations, restless leg syndrome, food cravings etc.

Helped various clients overcome the side effects of their prescription medication which included dependence on antidepressant medication.

Successfully treated a client with severe intolerance to magnesium. The client was unable to absorb this essential mineral and could become unconscious just by holding magnesium on her hand.

Worked with clients to identify the cause of their particular symptoms, treated the problem and prescribed home care advice which included advice on suitable food supplements, nutritional adjustments and herbal and flower remedies
Achieved remarkable results using the EFT technique as a sole treatment or as part of a plan to treat clients with all kind of conditions including: eating disorders, low self-esteem, grief, traumatic memories, anxiety, panic attacks, phobias and performance issues.
Massage Therapy, MLD, Reflexology 1981 to date
Experienced remedial massage therapist, with knowledge of manual lymph drainage and reflexology. Treated a diverse range of clients, offering body work and treatments which include the use of acupressure, stretch management, trigger point and deep tissue massage for pain relief, sciatica, cellulitis, restoring blood and lymphatic circulation and draining of oedemas, calming the nervous system, aiding relaxation and well-being.
Treated runners post marathon to aid recovery.

Experience of pre and post natal massage.

Experience of working with infants and elderly clients.

Offered remedial massage treatments, reflexology and Manual Lymph Drainage, to numerous natural healing events including the Asian Women's Resource Centre, the JWA Jewish Women's Aid, at Chalgrove Primary School, the Palmers Green Festival, and the Coffee Republic community healing events.

Have worked in Move and Rest SPA in Greece, at Co Co's SPA at Finchley London, Lido North Finchley, Virgin Active at High Barnet and with private clients in Greece, Israel and North West and Central London.